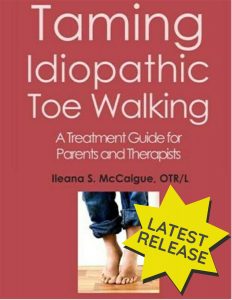 A Non-Invasive, Efficient and Effective Sensory Treatment Strategy for Children and Adolescents that Display Atypical Toe Walking.
Written by renowned Occupational Therapist, Ileana S. McCaigue, OTR/L, 'Taming Idiopathic Toe Walking: A Treatment Guide for Parents and Therapists' serves as a definitive manual for children and adolescents that display atypical toe walking behaviors. Inspired by the overcoming of toe walking by numerous children during her years of practice, McCaigue's professional expertise and personal experiences are fused into a vitally powerful resource.
TAMING IDIOPATHIC TOE WALKING… is an easy-to-read guide for parents and pediatric, rehabilitation therapists with information on the categories and treatment of atypical toe walking behaviors. This manual explains when toe walking is considered developmentally unusual for a child's age, and idiopathic or done for no known reason. Idiopathic toe walking is often associated with Autism Spectrum Disorders, ADHD, Specific Learning Disabilities, Developmental Delays and other disabilities with sensory processing difficulties, but can occur with typical children, as well. This book serves as a thorough resource for use of an alternative treatment strategy to "calm" the toes, and enable a typical walking pattern in those challenged with idiopathic toe walking. The ultimate goal is the prevention of tendon shortening and resultant limited motions of the ankles and feet from prolonged toe walking that can ultimately lead to the need for injections, bracing or at worst, surgery, to remediate the muscular imbalance.
TAMING IDIOPATHIC TOE WALKING… provides step-by-step instruction of how to make "Toe Tamers", a unique remediation tool that provides the sensory input that a child or adolescent with idiopathic toe walking needs to overcome this potentially serious problem behavior. A protocol and usage guide is available for: 1) How heavy to make the Toe Tamers, 2) How to apply them, 3) How often they should be worn, and 4) How long to use them to calm the toes. This would enable relaxation of the feet to stand with full weight bearing on the floor with or without socks and shoes. In addition… a HOME Program sheet is included in English and Spanish to instruct parents on the rationale for applying the Toe Tamers, as well as when and how to effectively use them.
Additionally, forms are available for logging the impact of the Toe Tamers. A record and graphs are included to track progress on the length of time, as well as the reduction of heel height, as the Toe Tamers effectively help the toes to lower the entire foot onto a flat surface.
As the author explains, her book introduces a sensory treatment strategy for idiopathic toe walking that all should consider exploring.
"Children with idiopathic toe walking whose feet are always bouncing on their toes, seem to calm their bodies down after their feet are relaxed. If you think about it, when your feet hurt or figuratively scream at you internally, you cannot relax your body. So, it would make sense that by calming the toes and relaxing the feet, that these children's bodies would relax overall, as well! It is by providing the sensory input needed by these children's feet, that their toes can lower and enable a typical pattern of walking. Using a holistic, sensory strategy in lieu of more traditional interventions will give their feet the input needed to help them overcome this problem behavior," says McCaigue.
The book is unique in the marketplace due to the author's own successful use of its methods over a lifetime of experience.
"I personally implemented the strategies outlined in this book over the past 27 of my 40 years as an Occupational Therapist working with children. I hope this easy-to-make, therapeutic, sensory strategy will help many children with idiopathic toe walking, and prevent the need for surgery or other more invasive treatment techniques. My goal is to help children with the least restrictive, most effective and efficient way to remediate atypical toe walking," McCaigue explains.
Expected to be in huge demand, interested readers are urged to purchase the book as soon as possible after its launch.
About the Author:
A 1977 summa cum laude graduate from the Medical College of Georgia in Augusta, Georgia, Ileana S. McCaigue, OTR/L,… is a nationally certified/ registered and licensed Occupational Therapist, author, program developer, holistic clinician and educator with 40 years of experience. Her professional career and expertise include a continuum of care. These range from the neonatal intensive care unit to pediatric concerns in the home, school and community for developmental delays, especially for strategy implementation to manage sensory-based problem behaviors.
Ileana has worked in a variety of pediatric settings that included over 20 years with Special Education students in public schools at the elementary, middle, and high school levels. She currently works with children in several clinics and at community sites. Ileana also sees private clients with special needs to provide home and community based treatment as needed, including sensory integration therapy, interactive metronome and other brain-based interventions to improve sensory-based problem behaviors. She also serves as a holistic consultant providing recommendations to facilitate the development of a "wellness home" environment for children and adults.
Ileana was the recipient of the Barbara S. Grant Award from the Georgia O.T. Association for her dedication and lifetime of outstanding service, as well as a recipient for the Maddak Award in the area of physical disability.
"Research has shown that toe walking is very difficult and time consuming to treat. This method is very non-invasive and simple and may produce dramatic results. Worth a read to all PT's and OT's treating children with sensory based toe walking!"
Lee Axelberg, PT
---