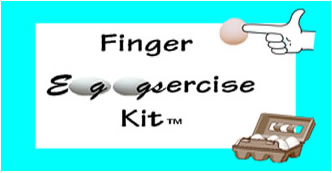 The Finger Eggsercise Kit is a trifold, clear, plastic egg carton containing 6 brightly colored plastic eggs that are numbered. The fine motor activities contained within each egg are graduated by level of difficulty, as well as the use of larger to smaller hand/finger movements. These activities facilitate a variety of grasp and pinch patterns that are needed for daily home and school activities.
Finger Eggsercise Activities
| | |
| --- | --- |
| Finger Eggsercise Activity #1 | Finger Eggsercise Activity #3 |
| Finger Eggsercise Activity #4 | Finger Eggsercise Activity #6 |
Finger Eggsercise Kit Activity Guide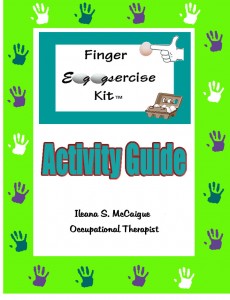 The Activity Guide is a 5 page booklet of instructions that guides the parent, teacher and/or therapist on how to utilize the activities in each of the colored eggs to best facilitate hand skills. Additionally, a Data Collection Form and a Progress Record are provided to document skills observed per session, as well as over a period of 8 sessions to denote progress over time.